Dead Island 2 has been a long time coming, having initially been revealed all the way back in 2014. Since then , the game has changed hands between a number of studios, and has clearly been subject to a very difficult development process to say the least. Thankfully, it does seem as though Dead Island 2 will launch later this year.
Recently, the release date for Dead Island 2 was changed once again. This time however, the game was moved forward by a week, meaning you don't have long to wait at all. 
From what we've seen, Dead Island 2 continues the zombie-slaying mayhem of its predecessor, with a new setting and cast of playable characters to set it apart. Players can choose from hundreds of weapons as they battle their way across Hell-A, facing off against regular zombies and more challenging mutated forms. 
Here's everything we know about Dead Island 2 so far, including the new release date, info on playable characters, and a look at gameplay.
Dead Island 2: cut to the chase
What is it? The long-delayed sequel to Dead Island
When can I play it? April 21, 2023
What can I play it on? PS5, Xbox Series X|S, PS4, Xbox One, PC 
Dead Island 2 release date and platforms
Dambuster Studios has once again changed the release date for Dead Island 2. It will now release April 21, 2023, one week earlier than expected. 
As for platforms, Dead Island 2 will be coming to new- and old-gen consoles, with PS5, Xbox Series X|S, PS4, Xbox One, and PC all confirmed.
Fans will be waiting with bated breath. The development of Dead Island 2 has switched hands twice since the sequel was originally announced eight years ago, leaving players disappointed in the past. It was first under development at Yager, the same studio that created Spec Ops: The Line, and was originally scheduled to release in 2015. But it never materialized. 
In 2016, it was announced that development had passed over to Sumo Digital. Three years later, the game changed studios again, with Dambuster announcing it had taken over work on the game. Fingers crossed that it makes it past the finish line this time around.
Dead Island 2 trailers
Latest trailer
A showcase aired on December 6, 2022, and gave us a few minutes of brand new gameplay footage. It was more of the same, but showed off some new weapons that can be used to batter the undead. In addition, zombie abilities were shown off, which allow the player to use their infection to enter a sort of frenzied state. You can watch this below.
More trailers
We've included some key trailers for Dead Island 2 throughout this article. To see every trailer released for the game so far, be sure to visit the Dead Island official YouTube channel.
Dead Island 2 gameplay
Now that Dead Island 2 has been given what seems to be a final release date, we're starting to see more and more gameplay. In a recent showcase, a few minutes of new gameplay footage was shown off. Melee combat was highlighted, featuring hammers, blades, and DIY-modded gear. There are guns in the game too, and so far we've seen pistols, shotguns and assault rifles/SMGs.
One interesting mechanic that has been shown off in gameplay trailers is the frenzy ability. It comes from the zombie bite on your character's arm, and allows them to enter a state where they become momentarily zombified. It looks like a useful tool, one that allows you to tear through hordes of zombies with ease.
In an interview with PCGamer, creative director James Worrall revealed that while the game doesn't have a branching narrative, the six player characters offer different perspectives. 
"Each player character has their own voice and their own dialogue," he said. "So you might get one character who's particularly driven or energised or upbeat. You might get another character who's a little bit more of a cynical individual. Some characters are quite low key, subtle. We've written those characters to reflect broad playstyles."
As for the zombies, there'll be variety there, too, with Dambuster confirming there'll be "dozens of distinct zombie types, each with their own mutations, attacks and hundreds of LA-themed variants".
In a preview of the game, IGN touched on the game's 'FLESH' system, or 'Fully Locational Evisceration System for Humanoids', which "procedurally shreds zombies with each strike" and makes the game a truly gory experience. We caught a glimpse of that ourselves in the trailer. 
When it comes to combat, IGN said that the game "encourages constant movement, with dodges, kicks, and jumps all integral parts" and that while there is a stamina system, it's not punishingly restrictive, allowing you to "experiment with a variety of different techniques".

During an interview with GameInformer (opens in new tab), it was revealed that Dead Island 2′s skill tree will be based on a card deck-building system. Creative director James Worrall described the skill deck as, "A collection of slots that represent all kinds of different abilities and you swap the cards in and out on the fly, however you want, whenever you want."
Dead Island 2 story and setting
Dead Island 2's story is still a bit of a mystery, although it sounds as if you'll play as a survivor of a deadly virus that's wrecked Los Angeles. Banding together with other survivors, you'll try to "uncover the truth behind the outbreak" as you "harness the zombie inside" of yourself.
As part of that banding together, Dead Island 2 will support single-player gameplay but there'll be co-op mode, too, with up to three players able to take part. We've still got quite a lot to learn about just how the co-op will work, though.  There will be six playable characters at launch. So far, we've seen four of them. There's Amy a Paralympian, Dani, who is a mosh-pit loving rockstar, Jacob, an English stuntman, and then finally Ryan, an exotic dancer from Fresno. 
Dead Island 2 news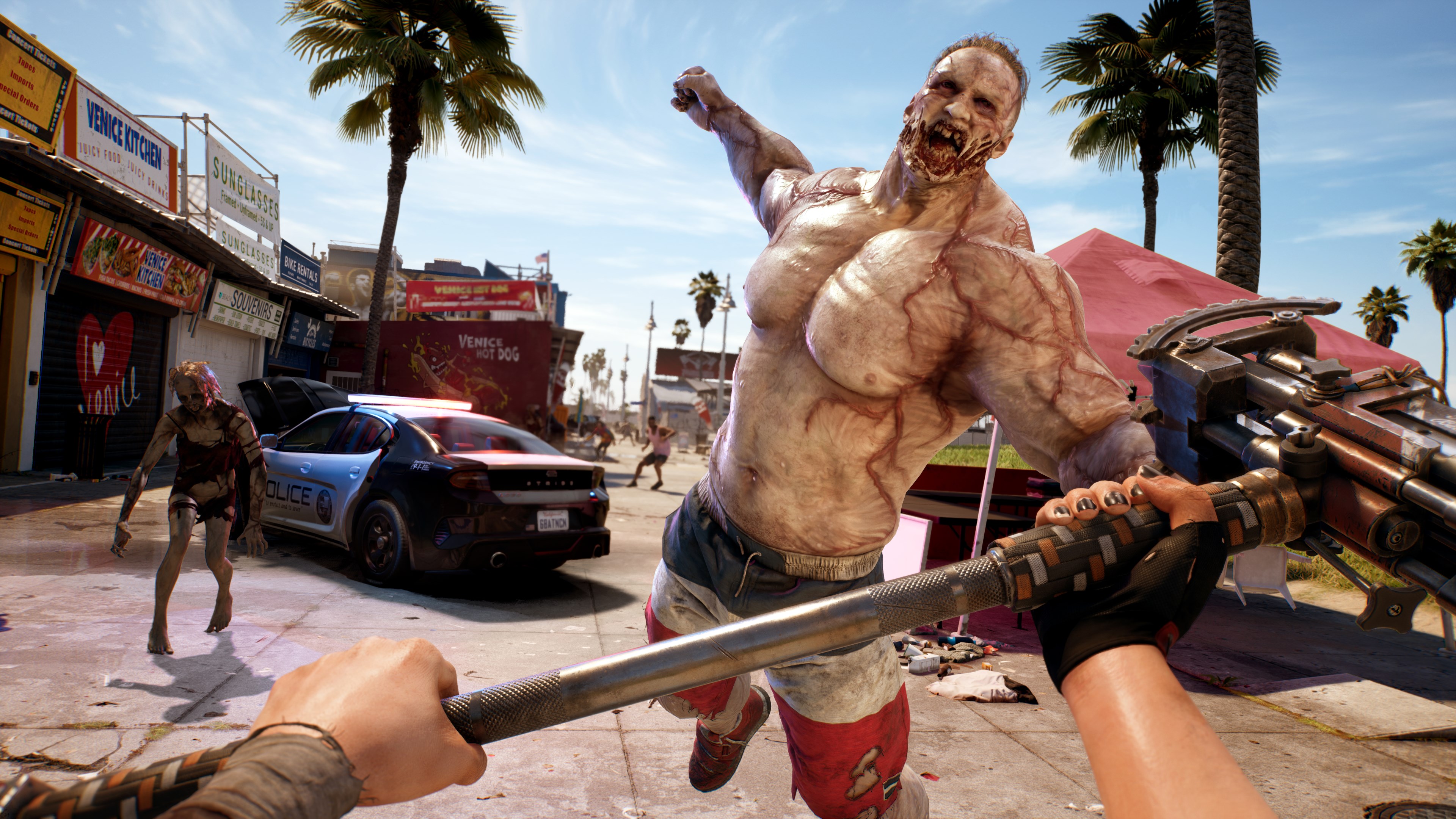 Dead Island 2 gets new Skill Cards
In a post on the PlayStation Blog, Studio Community Manager, Toby Gallagher detailed new Skill Cards. Each allows you to unleash a different ability, and can be accessed from the deck building menu.