While most of the gadget world kicks off the New Year with the Consumer Electronics Show (CES) in Las Vegas, for the phone industry there is Mobile World Congress (MWC), a huge mobile technology-focused event in Barcelona. We're on the ground in Spain covering the latest phone launches and forward-looking technology news, with the spotlight this year on flashy new devices from the likes of Honor, Xiaomi and OnePlus.
We've already seen the newest phones from Xiaomi, the Xiaomi 13 and Xiaomi 13 Pro, plus the rebadged Xiaomi 13 Lite. These phones made a big splash in Xiaomi's home market of China, and now that they're going global, we've gotten a hands-on look at some of them (check out our hands-on Xiaomi 13 review, as well as our hands-on Xiaomi 13 Pro review). 
There's news from OnePlus, too. The brand officially unveiled its OnePlus 11 Concept phone to the world on Sunday, and we were also able to get some hands-on time with OnePlus' first tablet, the OnePlus Pad (check out our hands-on OnePlus Pad review for our initial impressions of the device). 
Elsewhere, we're expecting announcements from almost every major phone maker that isn't Samsung – which launched its flagship Galaxy S23 earlier this month – or Apple (because, well, Apple). Honor and Oppo will both have events and keynote sessions here at the show, so we'll definitely be hearing more from those brands. 
We're also on the lookout for any new surprises. We know that Bullitt Group has its satellite-capable Motorola Defy at the show, and the company is expected to debut some other satellite surprises, too. We'll be keeping tabs on any new mobile phones with an eye on the sky. 
Keep checking back through the week as we update our Mobile World Congress Live Blog continually. We'll have all the news from Spain and the entire mobile world.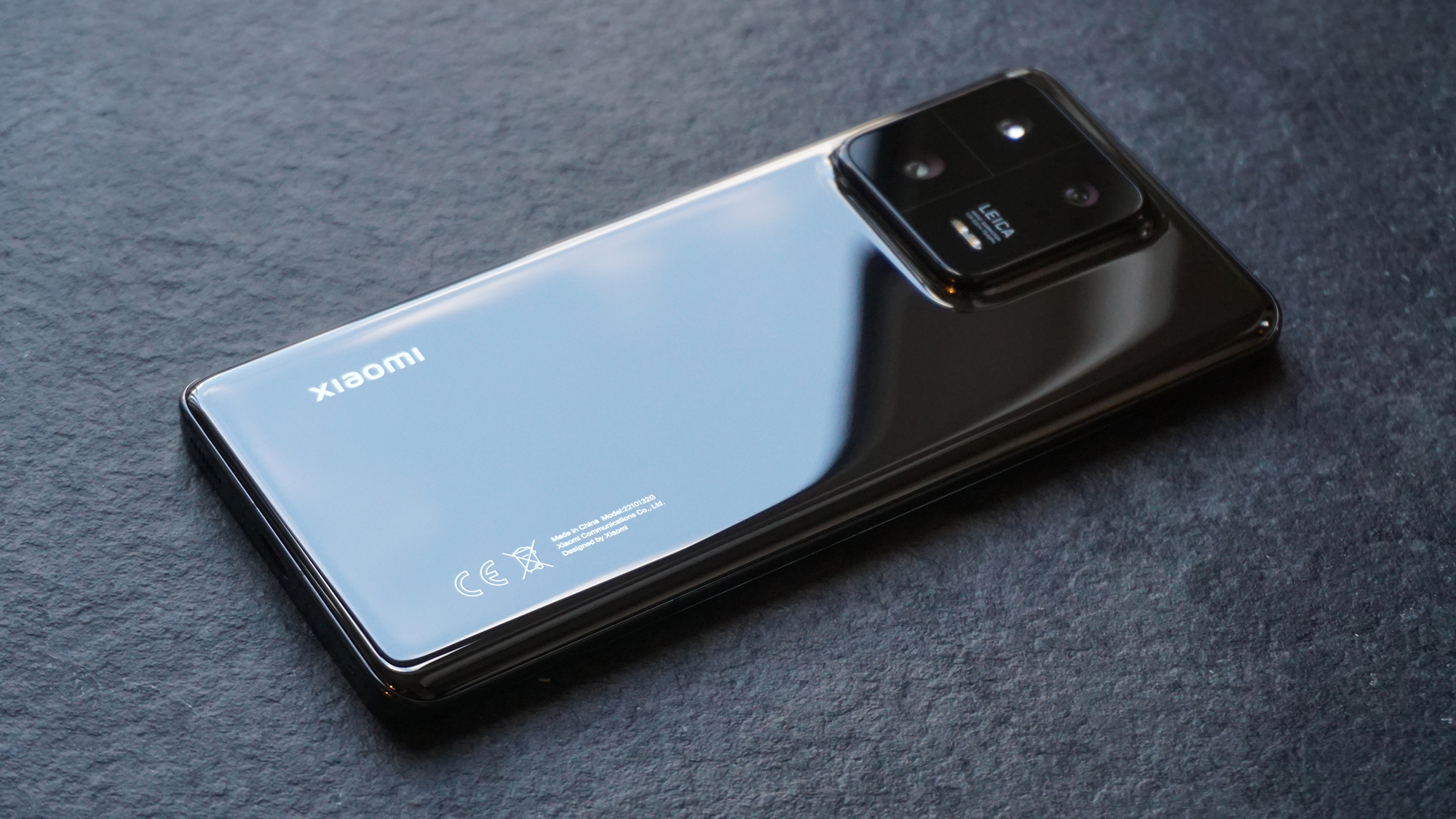 Welcome to Barcelona, mobile fans! We are on the ground at Mobile World Congress in Spain, the largest mobile technology trade show. We expect plenty of news, and Xiaomi has already kicked things off with a big global announcement. 
The Chinese company will finally be bringing its lauded Xiaomi 13 and Xiaomi 13 Pro to global markets. That one inch camera sensor and Leica-branded lens on the Xiaomi 13 Pro will be available in the UK and plenty of markets beyond, though unfortunately it won't find its way to US soil. 
We've gotten hands on with both of Xiaomi's new phones,  as well as the rebadged Xiaomi 13 Lite, a bargain model also getting a global launch. We'll have a more detailed Xiaomi 13 review soon, so keep checking back.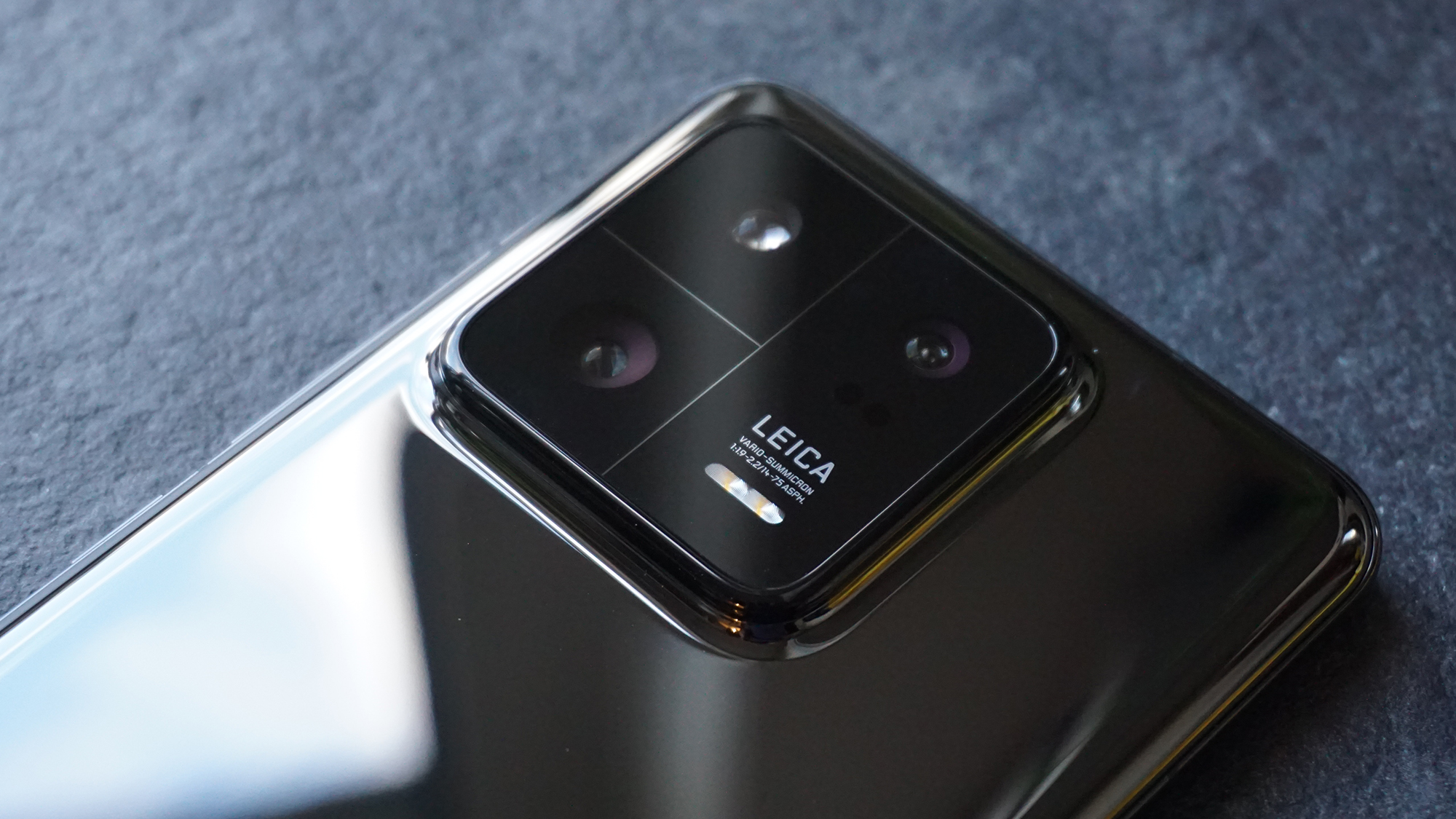 Will Xiaomi's big sensor challenge the Galaxy S23 Ultra? The new Xiaomi 13 Pro features the same one inch camera sensor found on the Xiaomi 12S Ultra, the Sony IMX 989 sensor module. That phone was good enough that one of our writers called it the best camera phone he'd ever used. 
While Samsung's latest ultra-premium phone far outclasses the Xiaomi 13 Pro in megapixel count, the size of the sensor matters more than the number of pixels. Samsung's sensor measures around 3/4 of an inch diagonally. The Sony sensor on Xiaomi's new phone is one inch, the same size as many professional DSLR cameras. 
Of course, photography is complicated and the sensor is only one part of the equation. Both phones also benefit from the Qualcomm Snapdragon 8 Gen 2 platform, which includes Qualcomm's image signal processor. 
We'll need to spend quality time with Xiaomi's new 13 Pro before we declare it our favorite camera, but it certainly packs the right specs to take on the champion, and we're please to see it more widely available than Xiaomi's previous camera great.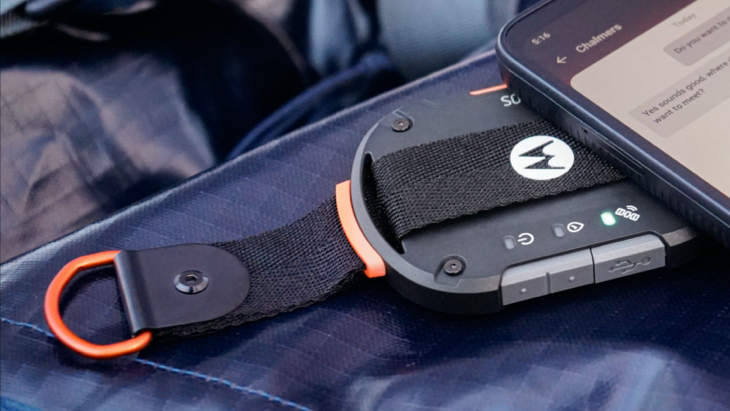 Xiaomi's new phones aren't the first big Mobile World Congress launch we've seen. I got a chance to preview satellite messaging on a Motorola Defy prototype earlier this year, and now Motorola and Bullitt Group have announced the Motorola Defy 2, as well as the Motorola Defy Satellite Link. 
Both the rugged, water proof Defy 2 as well as the satellite link can send messages via geostationary satellite. Unlike the iPhone 14 family of devices, which can use satellites for emergency messaging and SOS, the Moto Defy 2 and the satellite link are good to go for boring, mundane messaging that doesn't require a helicopter rescue. 
The Defy Satellite Link is launching in the US and UK for $99 / £99, while the Motorola Defy 2 will sell for $599 / £549. The satellite messaging will be free for a period, then cost $4.99/€4.99 for 30 messages per month via satellite.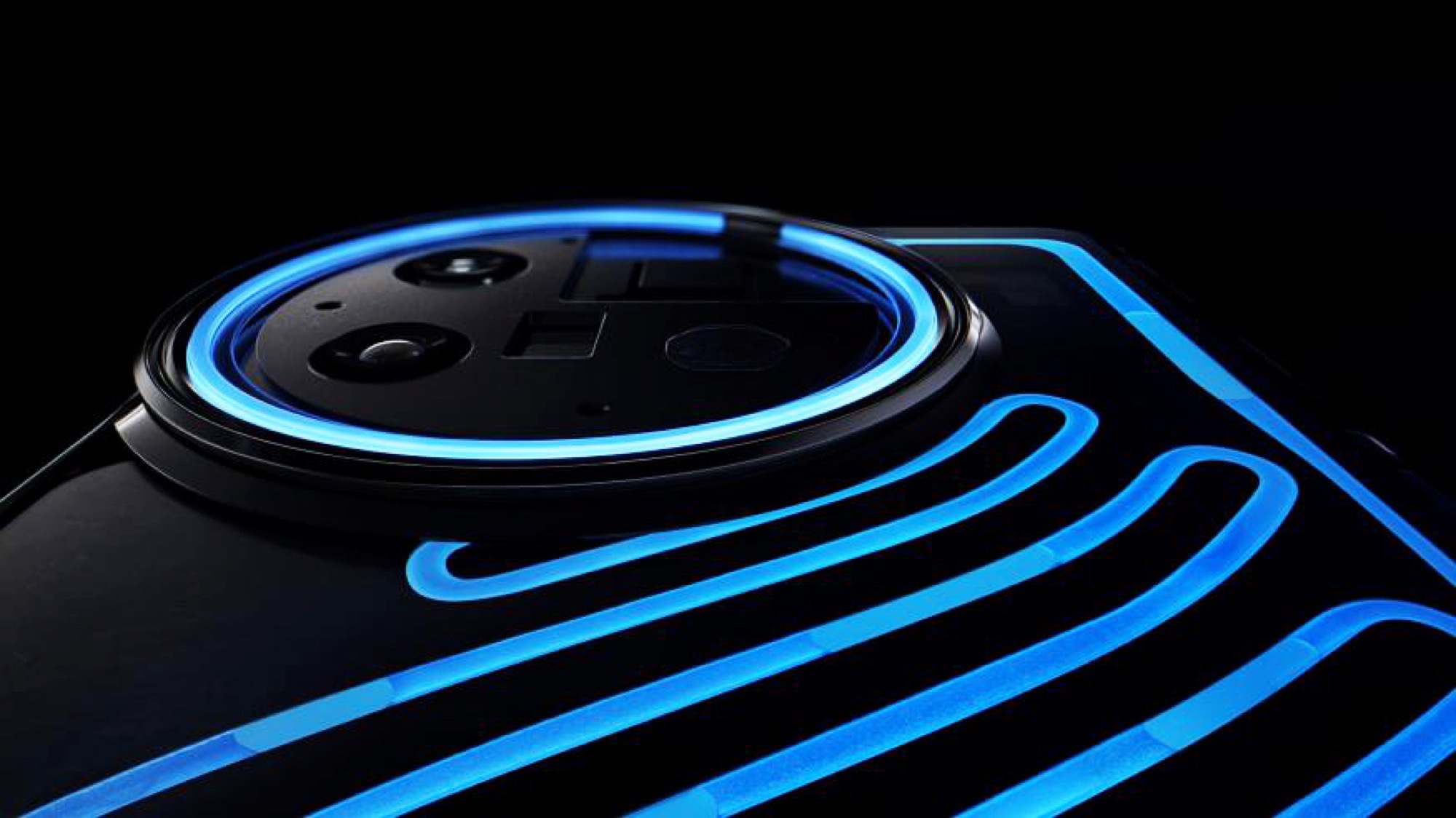 One phone we're expecting to see soon is the OnePlus 11 Concept phone. OnePlus told us last month that it would have a Concept device here at Mobile World Congress in Barcelona, and it has since posted a preview on its web site showing what seems to be the back of the phone. 
The image looks like the sort of liquid cooling we'd expect on a gaming PC, so we think OnePlus might have its sites on some serious gaming cred with the new concept device. With its Concept title, it's not clear whether this will be a OnePlus phone you can actually buy, or just a technology demonstration. We're hoping to get hands-on with the new phone soon. 
OnePlus also teased a OnePlus Pad tablet, and we're expecting to see the company's first iPad competitor here at the MWC show. We'll have hands-on details and a full look as soon as we get to spend time with the new devices.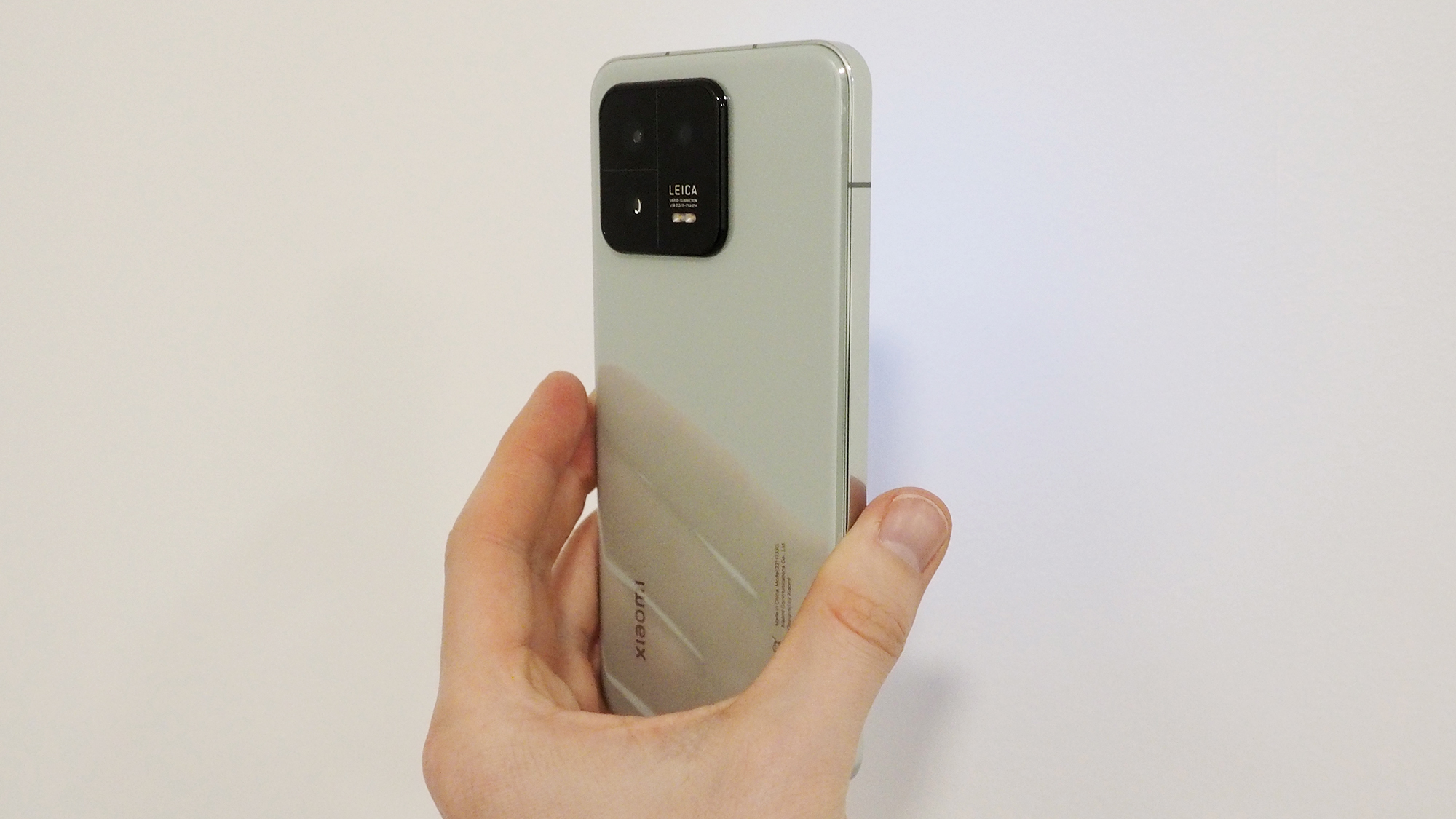 We've spent a bit of quality time with Xiaomi's new camera phone in our Xiaomi 13 Pro review, but Xiaomi's entry-level model is no slouch, either. While only the Pro model gets the big one inch camera sensor, both phones benefit from Leica tuning.
We'll have to spend more quality time shooting photos with each phone to determine just how much they benefit from the preeminent  camera maker, but we've seen mixed results with these partnerships in the past. 
The recent OnePlus 11 features a partnership with Hasselblad, but that deal seems to cover color tuning and processing. With Leica, it seems that Xiaomi has also gotten help designing the lenses and components of the camera, which could make a difference.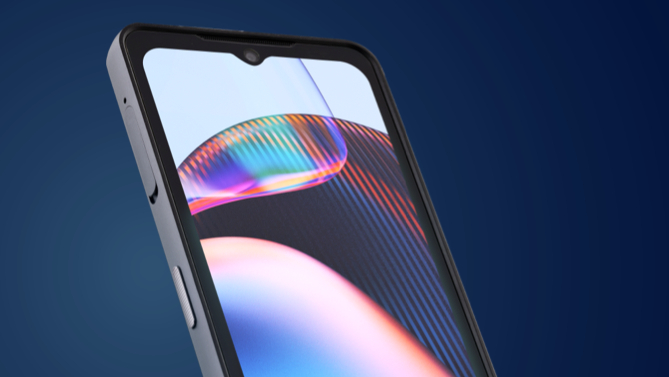 We knew that Bullitt Group would have a new Motorola Defy with satellite capabilities, but we were surprised to see the Motorola Defy Satellite Link. This accessory connects to your phone via Bluetooth and allows you to send text messages to anyone, using a satellite connection. 
It relies on a messaging app from Bullitt Group to decide if you need to use the satellite or not. When you send a message to someone who doesn't have the app installed, the first message they get will be a link telling them to go download. Then they can communicate with you, no matter where you are. 
I wish there didn't need to be an app middleman, but nonetheless this is the first real consumer-friendly satellite messaging device that we've seen. It's available on the upcoming Motorola Defy 2 smartphone, as well as the intriguing new Satellite Link device.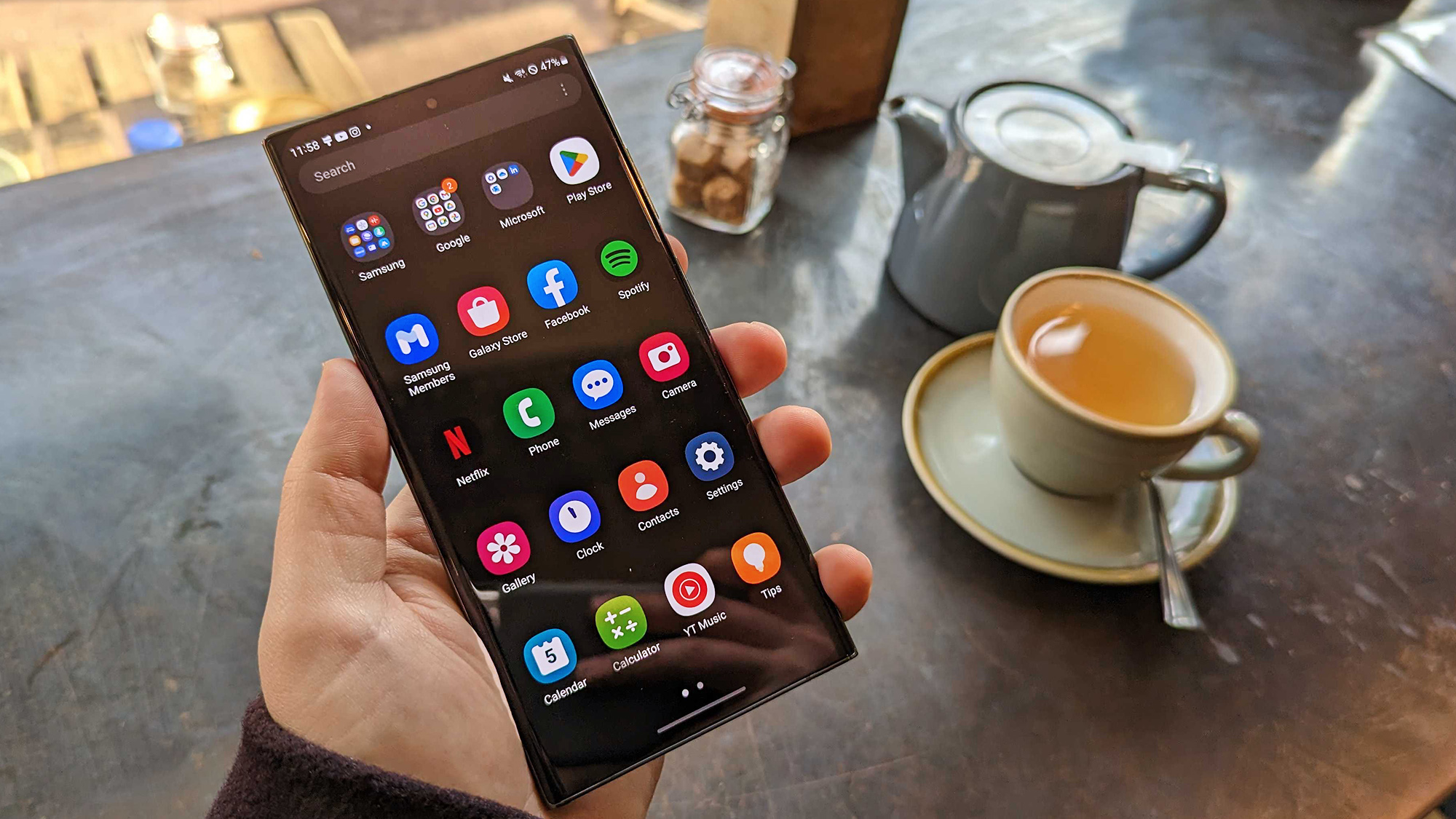 You may ask why Samsung, the biggest phone maker in the world, isn't at Mobile World Congress, the biggest mobile trade show. Of course they are, we just don't expect to see any new products this week. Samsung used to launch Galaxy S phones at MWC, then moved to its own event to ensure it could keep all of the headlines for itself. 
The mega-brand still keeps a presence in Barcelona, as the show is about mobile network technology, mobile components, as well as finished phone products, and Samsung is involved in every part of the mobile industry, from start to finish. We'll be catching up with Samsung this week to make sure we don't miss any surprise announcements from the brand. 
As for the other big name in phones, Apple has never bothered with major trade shows outside of its own events. The original iPhone was actually announced around CES, but not in Las Vegas at the official CES trade show. It was at an event in California. We don't expect any Apple news this week, unless there is some rumor or leak to keep attention fresh.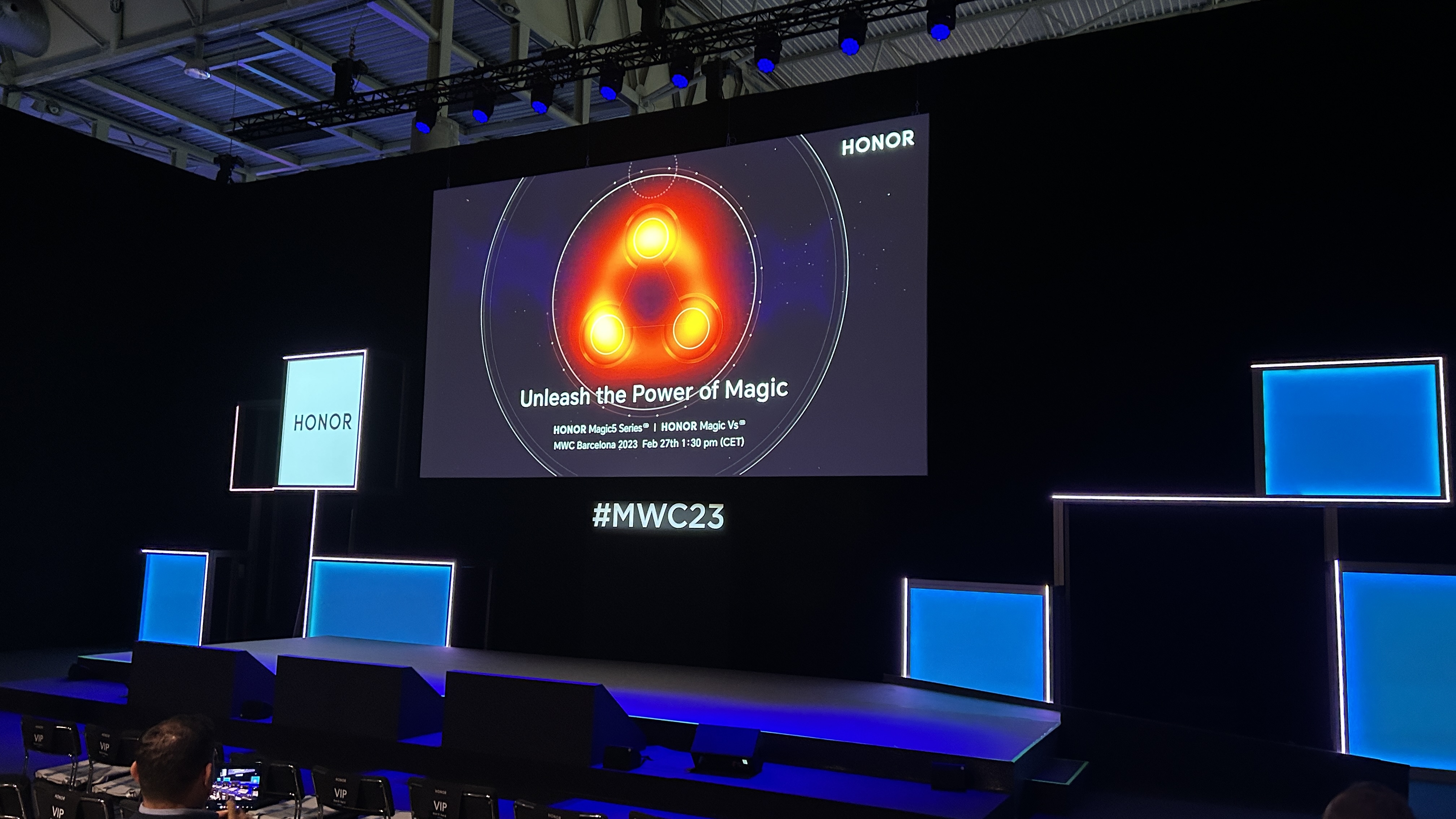 Good morning, mobile fans! Axel here, phones writer at TechRadar. I'm on the ground at MWC Barcelona, ready to bring you the latest and greatest announcements to emerge from this year's mobile trade show.
We're kicking our Monday off with a keynote session from Honor, where we're expecting to hear more about the burgeoning company's next flagship, the Honor Magic 5 Pro, as well as its second-ever foldable device, the Honor Magic Vs (which you can read more about in our hands-on Honor Magic Vs review). 
Honor's keynote event is scheduled to begin at 1:30pm our time (7:30am ET / 4:30am PT / 2:30pm GMT, which is 1:30am on Tuesday in Australia). You can follow along here, or tune in for yourself via the link on Honor's website (or both!). 
And away we go!
Honor CEO George Zhao kicks off by announcing the brand's shift away from technology-centric thinking to human-centric thinking: in other words, Honor wants to make products that actually help people, rather than develop technology for the sake of developing technology. Let's hope this new philosophy translates into the Honor Magic 5 Pro and Honor Magic Vs…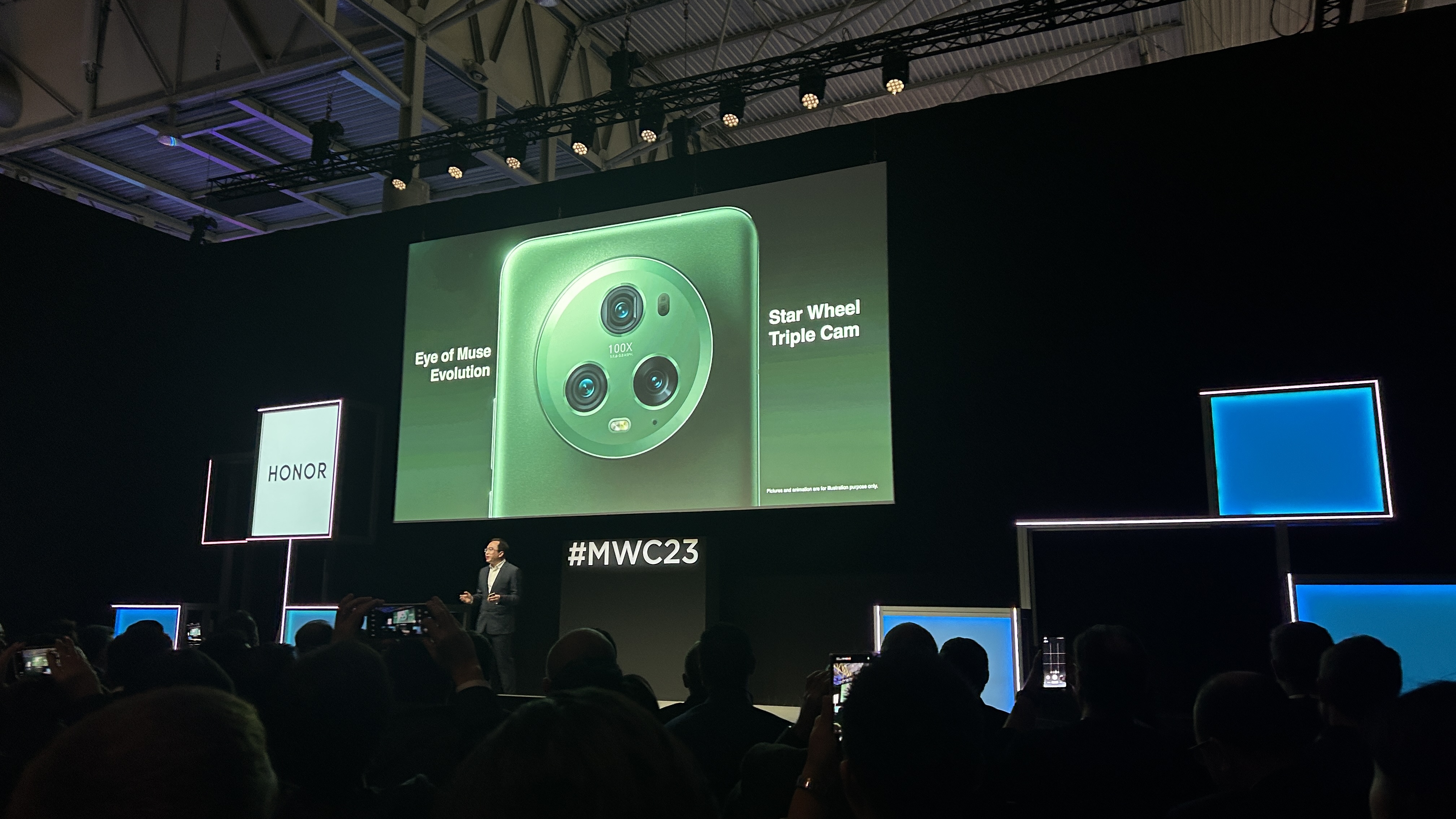 Here's our first official look at the Honor Magic 5 Pro and its triple-camera setup. Zhao says the phone's rear snappers have been designed with the first image of a black hole in mind (three black spots etc.), and arranged in an equilateral triangle pattern that simplifies the brand's famous 'Eye of Muse' shape.
The Honor Magic 5 Pro will be available in five distinct colors: Glacier Blue, Meadow Green, Coral Purple, Hot Orange, Classic Black (Hot Orange gets the biggest cheer).
Okay, this is interesting. 
In keeping with the brand's new human-centric design philosophy, the Honor Magic 5 Pro's 2160Hz (!) display is certified circadian-friendly, which essentially means it's not too taxing on the eyes. By mimicking the dynamic dimming of natural light, the Honor Magic 5 Pro reduces eye strain by 18% (compared to other premium smartphones), giving you 30 minutes more sleep, supposedly.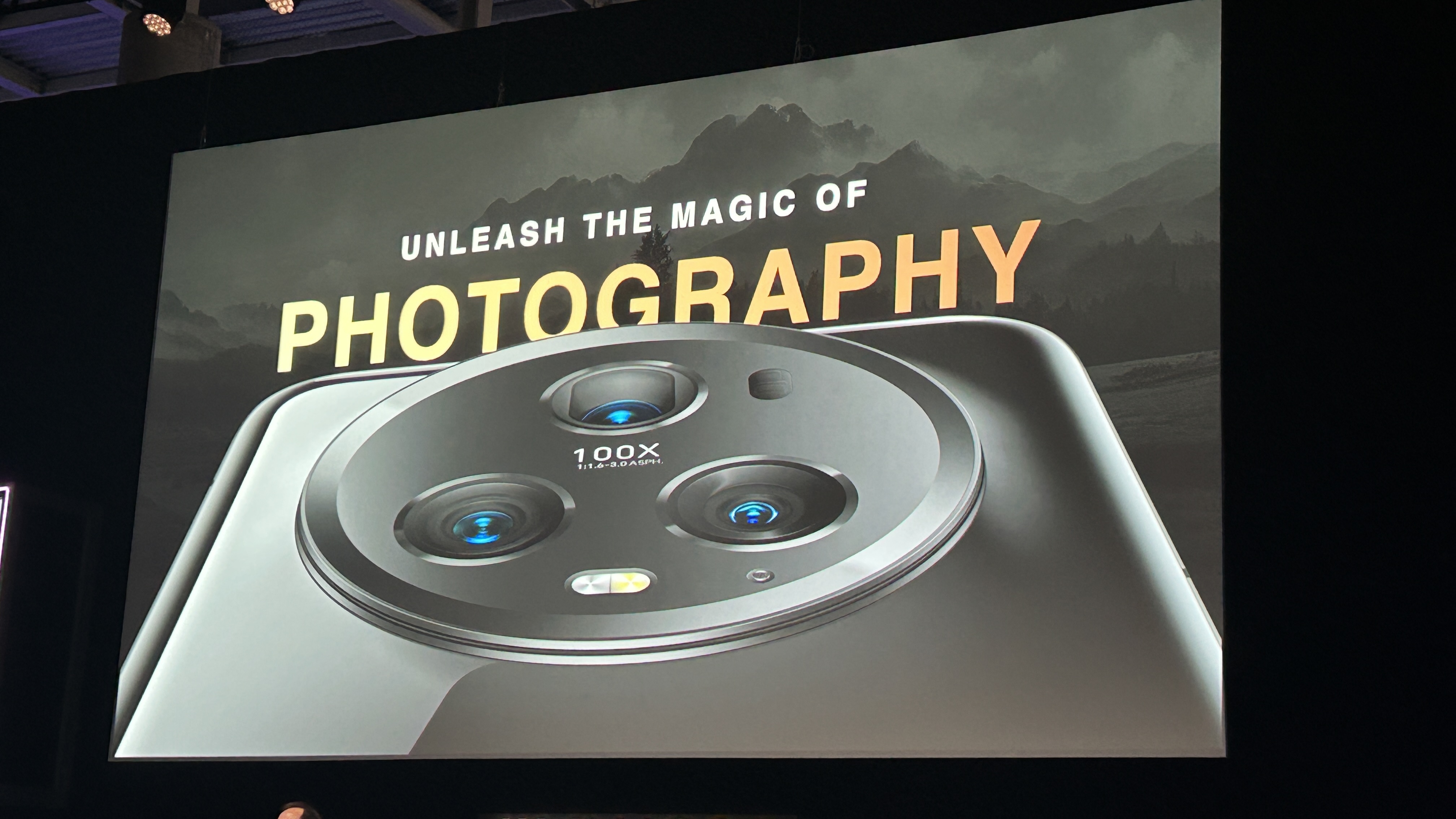 It's worth noting that Zhao is making *lots* of comparisons to the Samsung Galaxy S23 Ultra here. The Honor Magic 5 Pro boasts better low-light photography, dynamic range, color accuracy, and picture detail than Samsung's newest flagship, he says. 
On cameras, the Honor Magic 5 Pro packs a 50MP wide lens, a 50MP telephoto lens, a 50MP ultra wide lens, and a 12MP ultra wide lens on the front. The key differences, though, come from the Magic 5 Pro's various special modes. One of them is AI motion-sensing capture, which allows you to snap impressive stills from motion-heavy movements like dancing, jumping or the shuffling of a deck of cards.
Some more impressive specs for you. The Honor Magic 5 Pro gets a Snapdraon 8 Gen 2 chipset, IP68 water and dust resistance, a 6.81-inch LTPO Quad-Curved Floating Display, and a 5100mAh5 battery that supposedly yields over 12 hours of battery life with heavy usage (for comparison, that's more than the S23 Ultra and iPhone 14 Pro Max can manage).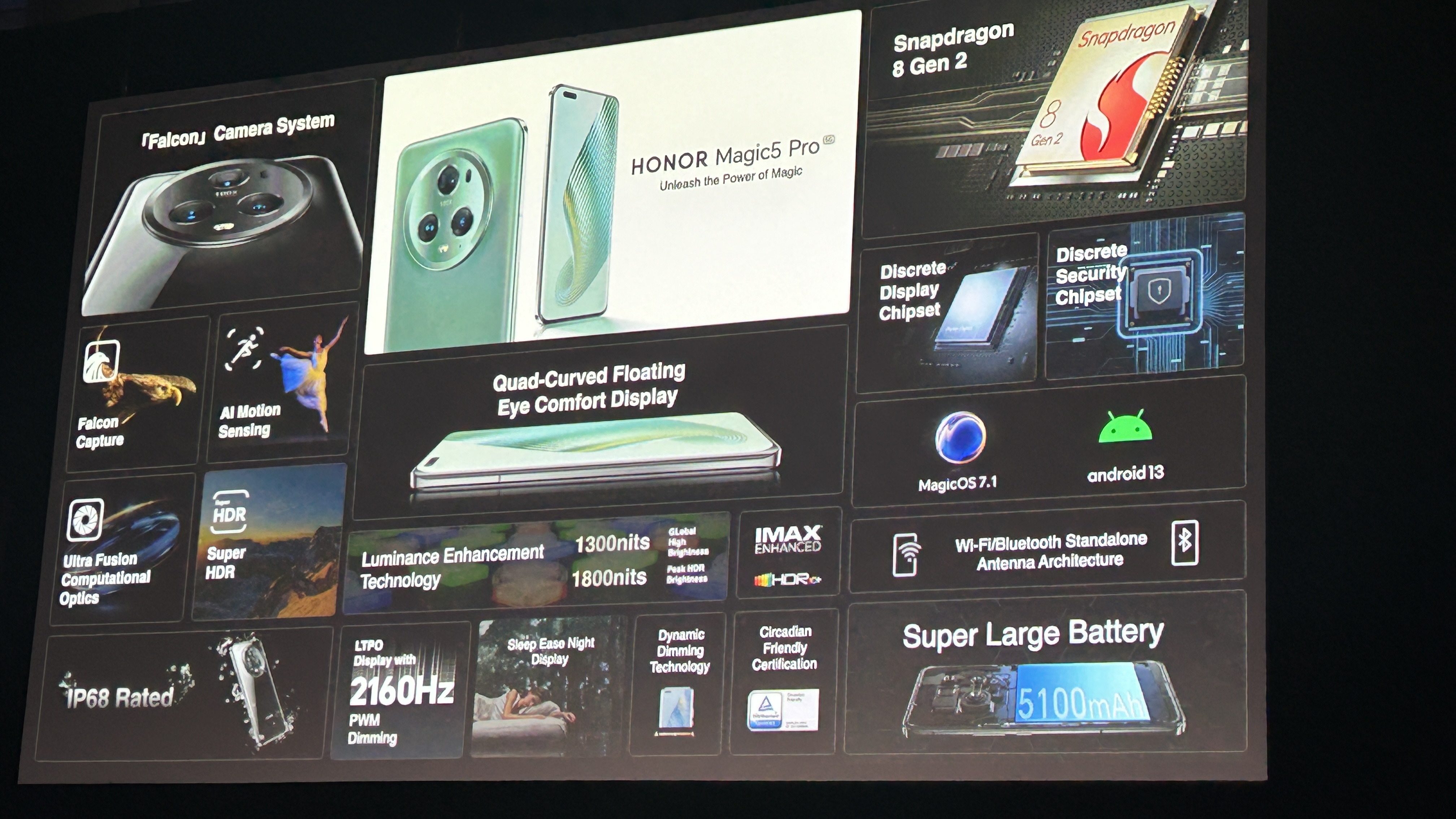 Here are the Honor Magic 5 Pro's key specs in full.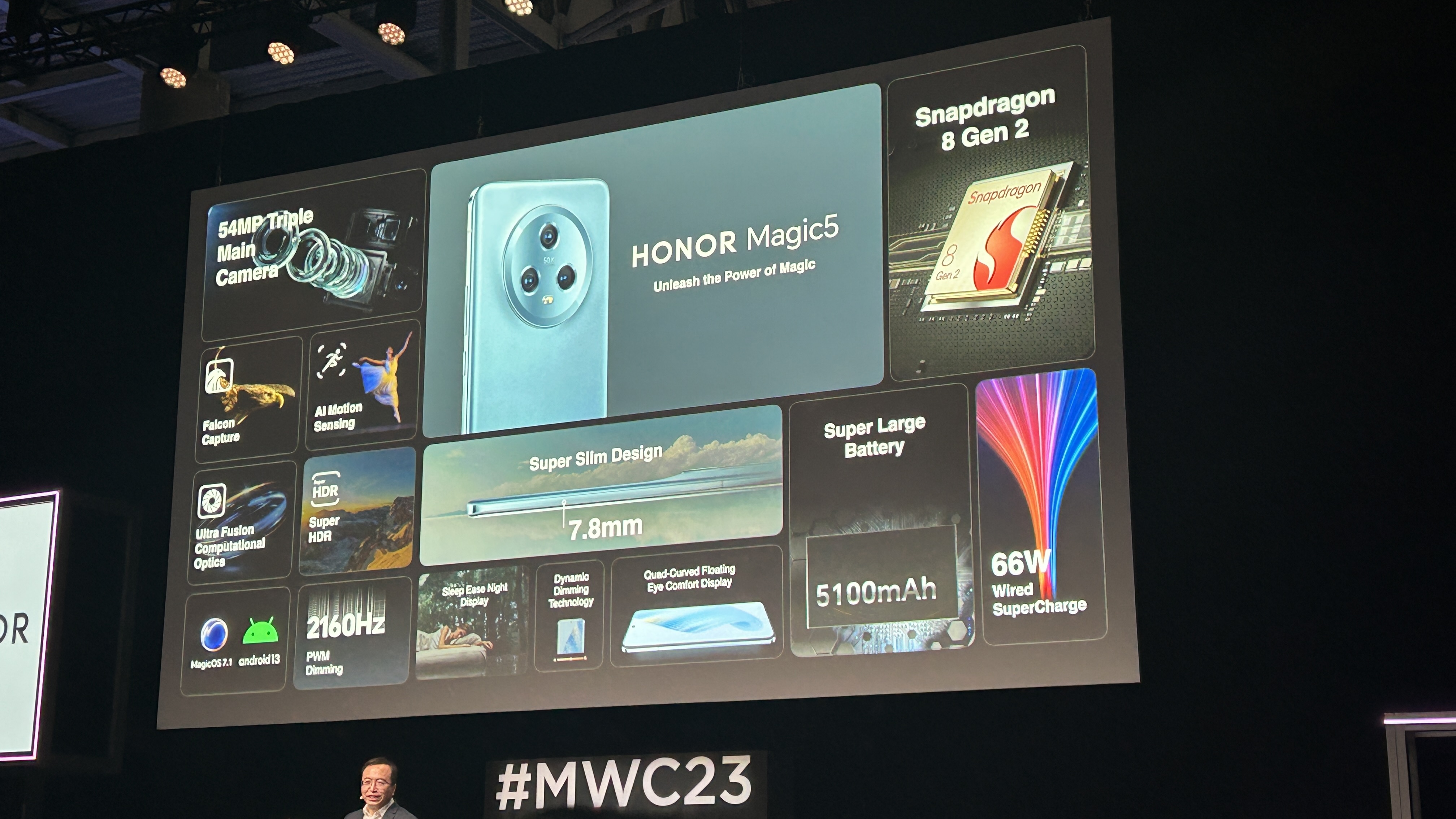 As expected, there's a standard Honor Magic 5 on the way, too. With this phone, you're still getting a Snapdragon 8 Gen 2 chipset, a triple-rear camera setup (with a 54MP main lens and AI motion-sensing), a 2160Hz Super HDR display and a 5100mAh battery with 66W fast charging.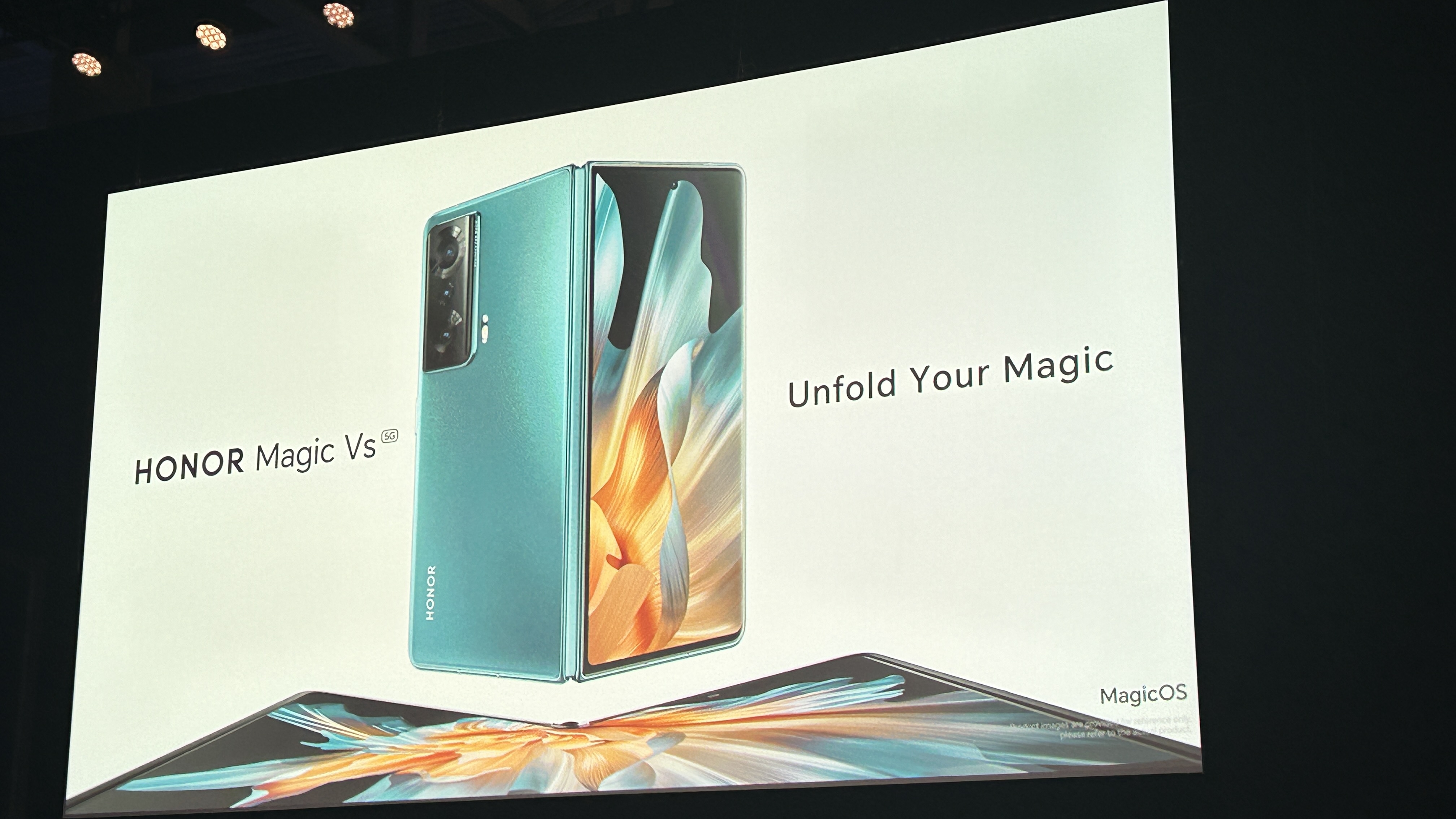 Before Honor wraps up, here's a note on the brand's second-ever foldable, the Honor Magic Vs.
We've already spent a bit of time with this device (head over to our hands-on Honor Magic Vs review for our first impressions), but this is the first time we're hearing about the foldable phone's European price: €1599. Yikes.
Honor has shared base European pricing for the Honor Magic 5 and Honor Magic 5 Pro, too (€899 and €1199, respectively) – mercifully, that's a little more respectable.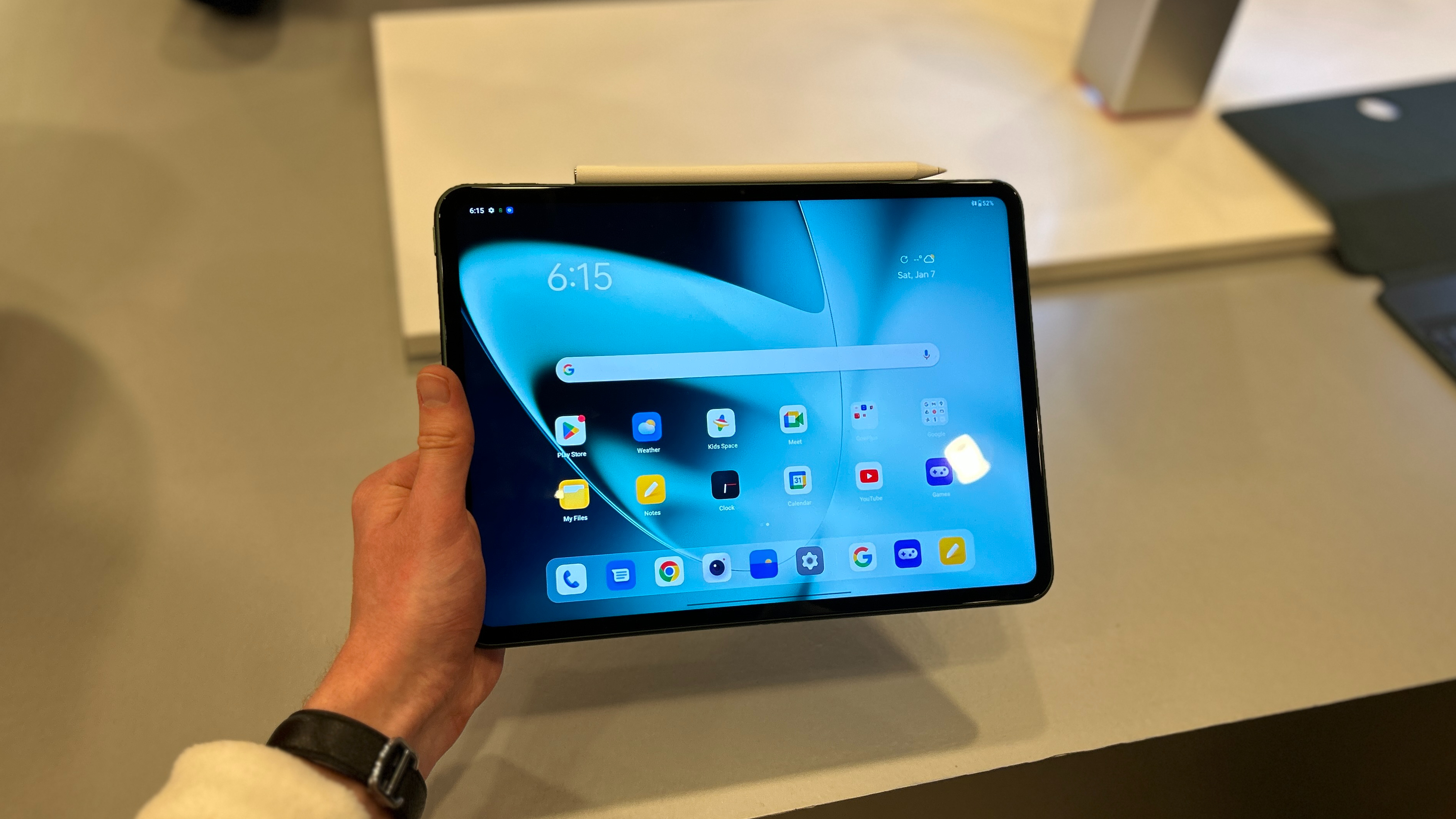 As Honor's keynote comes to an end, let's turn our attention to OnePlus for a moment. 
Yesterday, the mobile manufacturer properly unveiled the OnePlus Pad, having debuted the device alongside the global launch of the OnePlus 11 earlier in February. Head over to our hands-on OnePlus Pad review for our first impressions of OnePlus' debut slate, which we described as a "bold-looking tablet with premium specs."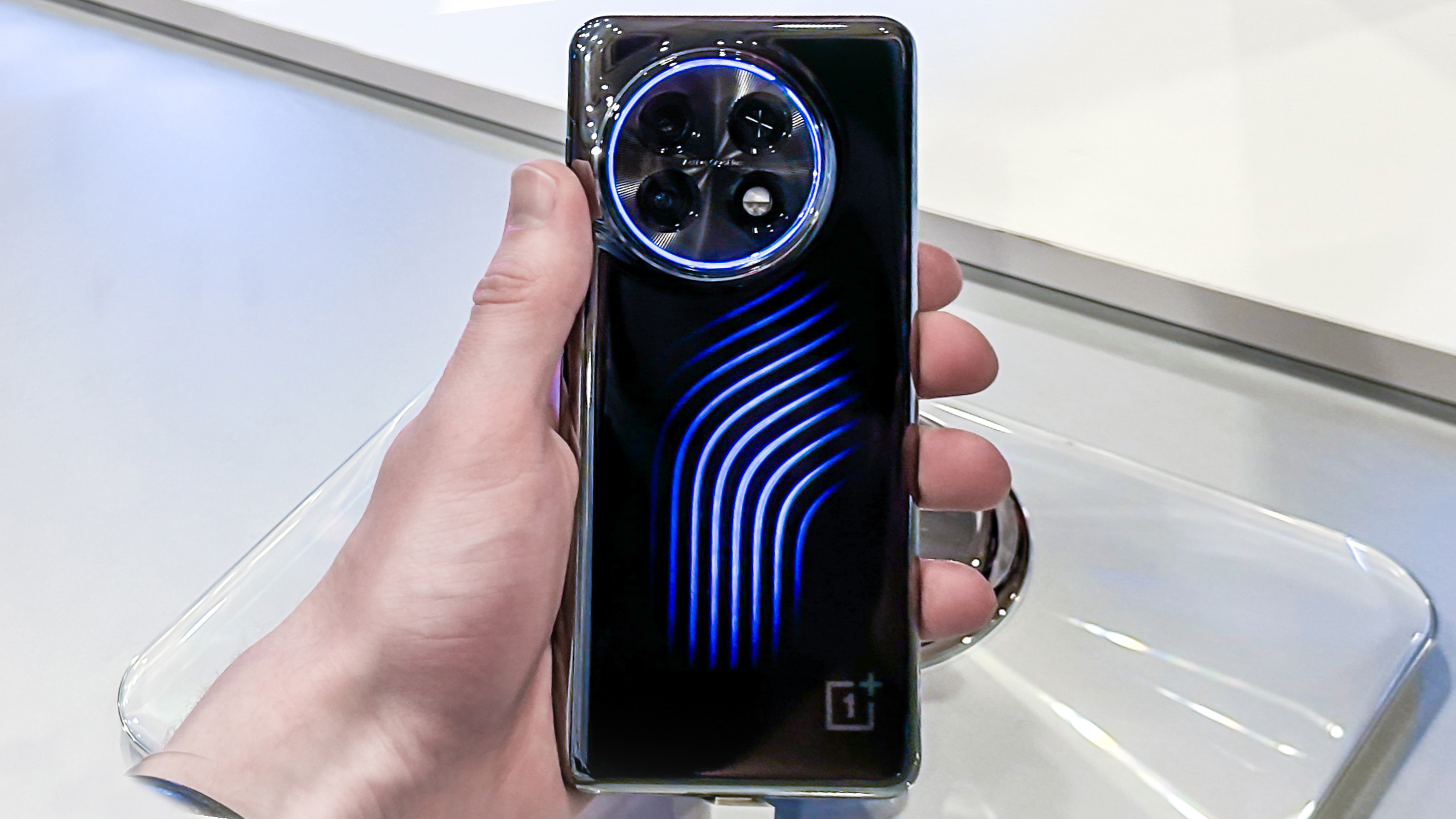 We also got hands-on with the OnePlus 11 Concept, a prototype version of the OnePlus 11 that's intended to demonstrate how gaming PC-style liquid cooling technology can be applied to future OnePlus smartphones – which is certainly a neat idea, albeit one in the early stages of development. 
That said, the Concept did operate as an actual phone in our testing session. The models we were able to handle at MWC looked and felt like actual devices we might purchase, complete with scrollable screens and working operating systems, which is an achievement in itself on OnePlus' part.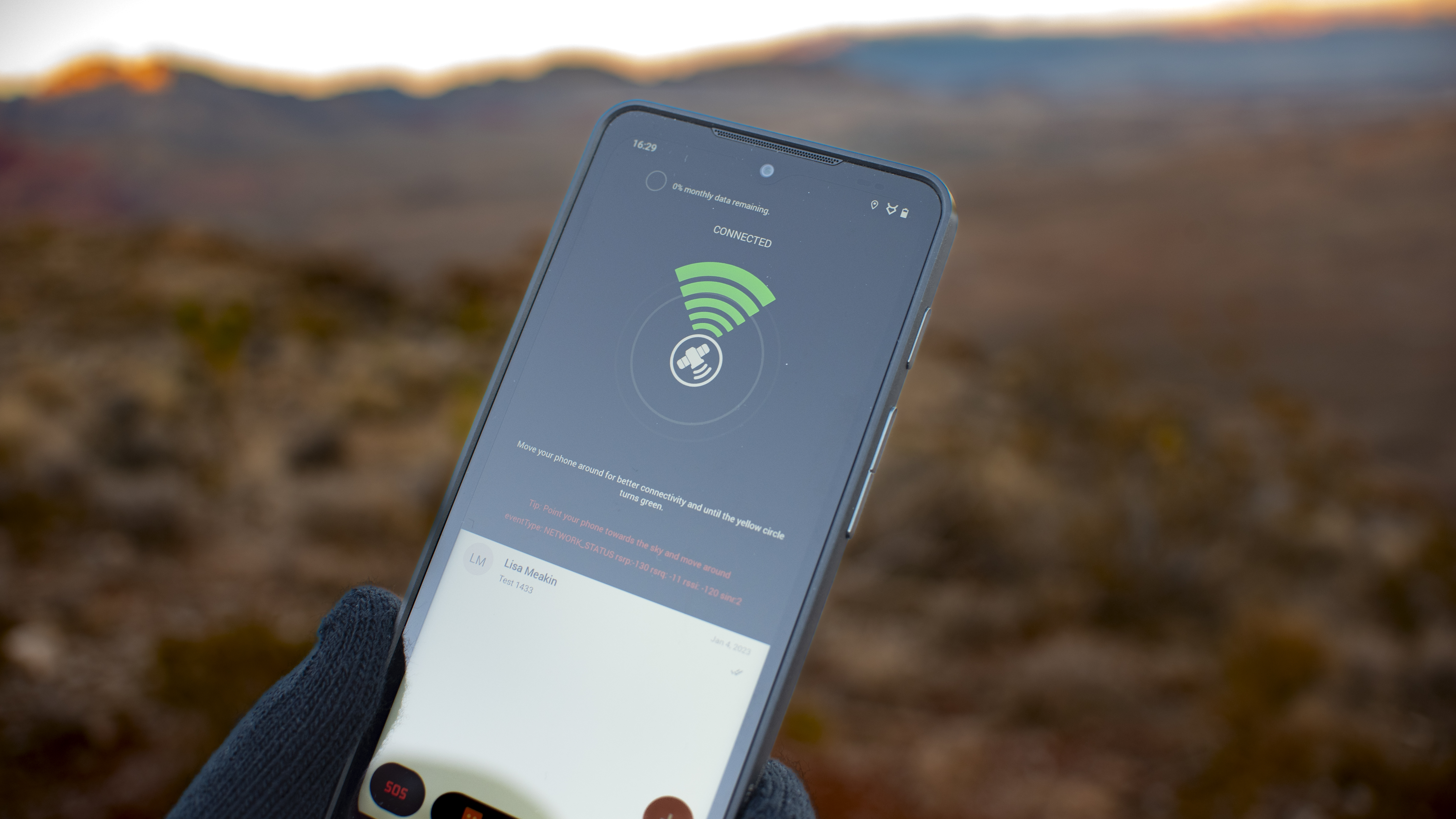 Yesterday we talked about satellite messaging with Motorola's surprising new Motorola Defy Satellite Link. We've finally gotten word from Qualcomm about its  satellite connectivity, with plenty of partners involved. 
Qualcomm says that it will use Iridium's satellite constellation, and phone makers including Honor, Motorola, Nothing, Oppo, Vivo and Xiaomi will use Qualcomm satellite networking in upcoming phones. 
That accounts for every major Qualcomm chipset buyer except for Samsung, which recently announced its own non-terrestrial network plans. Google has kept quiet on satellite plans, and it uses a chipset of its own design, not a Snapdragon. 
Apple has a satellite messaging service for SOS emergencies, but Qualcomm's plan will be more consumer friendly, offering messaging and eventually data services to everyone, regardless of any imminent level of danger.