I attended a launch event for the Ninja Woodfire on Wednesday March 1 and, from what I have seen so far, have felt more than satisfied with the culinary offerings on the table. It's a first (ever) for the brand as it ventures outside to give customers the opportunity to cook their favorite foods in a not-so-dissimilar manner that they're used to.
It's an outdoor cooking appliance that I think is most definitely tipped to be the best air fryer for outdoors, since air frying is just one of its seven settings that it's capable of achieving under the hood. It doesn't take up much more room (if any) than your fave counter-top appliance either so it's one that even the smallest yards can make room for.
During my time with the Ninja Woodfire I tucked into cuisines from Italy, America and Australia, indulging in smoked tear-and-share garlic bread, grilled corn-on-the-cob, and air fried courgette and sweetcorn fritters (my favorite).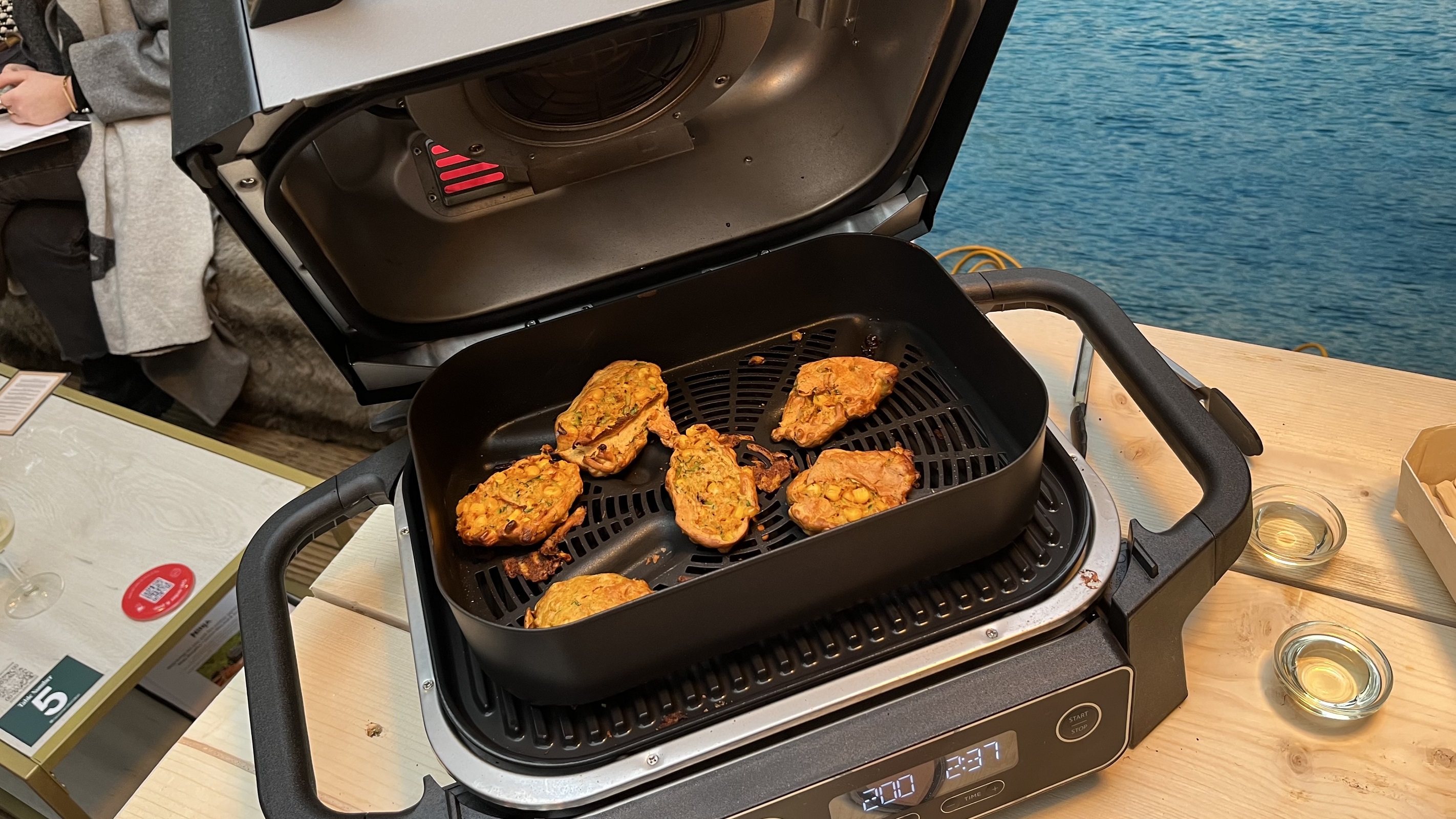 These three settings (smoke, grill, and air fry) were the only settings being shown to us, yet the electric BBQ grill and smoker can also roast, bake, reheat and dehydrate. Depending on the foods you're cooking, you can opt for the most suitable setting by turning the dial on the control panel.
I caught up with the Ninja Woodfire brand ambassador, Gino D'Acampo, who spoke highly about it and shared with me that he has tried all but one of the settings…
Gino's blind spot is the Dehydrate setting, but he mentioned that he's going to be trying it this weekend on a piece of smoked salmon, so I'll keep a look out for his verdict, but what he did rave about is a smoked boiled egg – the jury's out on this one for me.
The control panel, which is located at the front of the product, also houses the timer and temperature settings plus the smoke fire button, which can change the taste sensation of the foods on 'smoke'. Pellets can be added to a pull-out type drawer to the side of the hood. These pellets burn cleanly and leave very little ash to tidy. 
Ninja sells two types of these pellets: Robust Blend and All-Purpose Blend. The Robust is a mix of Hickory, Cherry, Maple and Oak to recreate that rich, classic BBQ flavour, and the All-Purpose is a concoction of Cherry, Maple and Oak for a balanced, mild and sweet flavour. They're available to buy from the Ninja website, along with a ton of other accessories such as a grill pellet scoop, grill plate, and stand.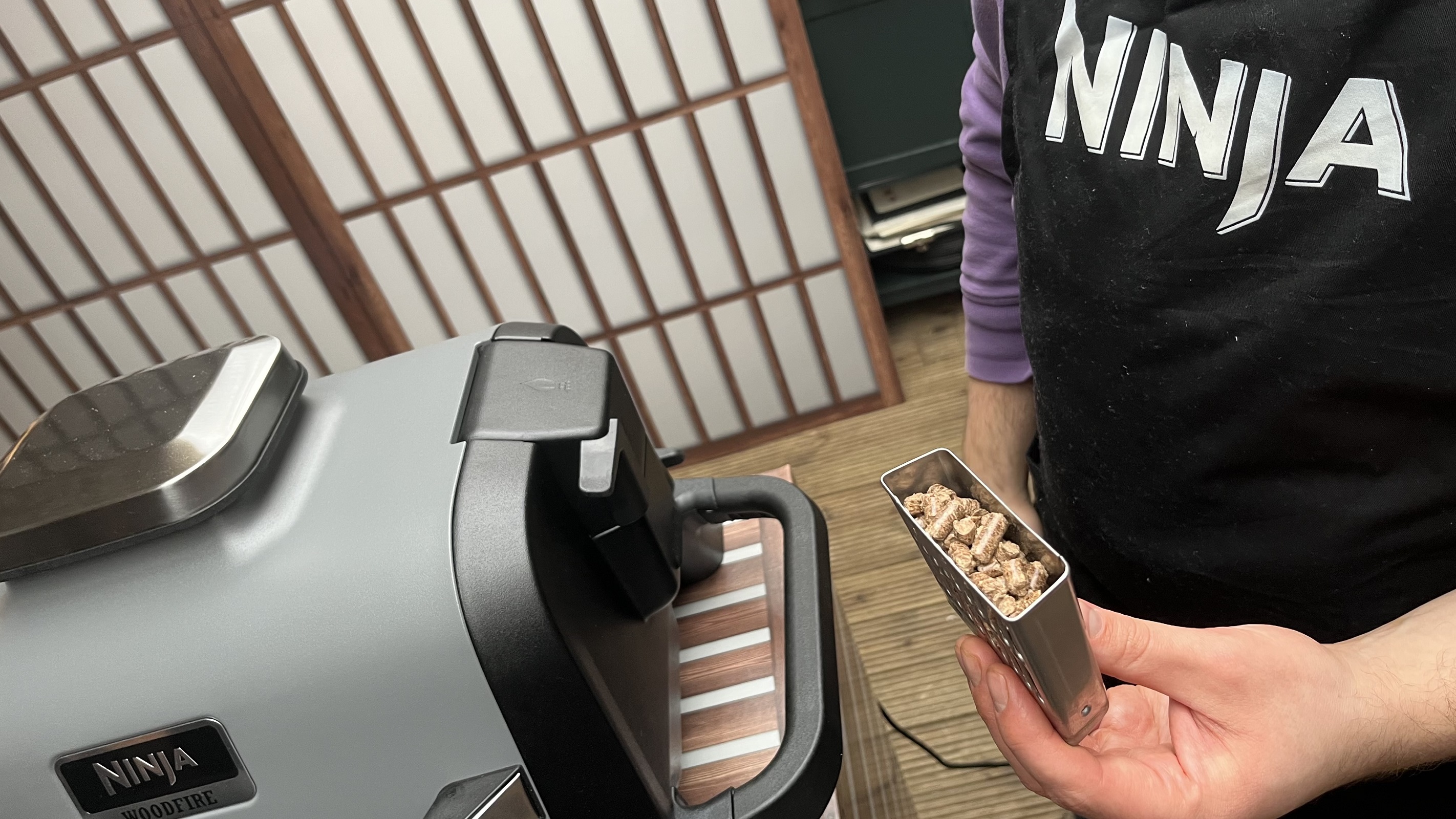 The Ninja Woodfire can be left outdoors all year round, the company says, but if you want to give it that little bit extra protection, there is a cover that you can buy from the Ninja US   and Ninja UK site, which I think would be well worth getting for $20 / £29.99.
What you do get for the $369.60 / £349.99 price of the Ninja Woodfire, is the machine, a pellet starter pack (both blends), pellet scoop, crisper basket, and chef-created recipe guide to help you get cooking. 
Our US readers could also benefit from the Ninja Woodfire Pro Outdoor Grill with Built-in Thermometer and Premium Package for $459.60 which has the grill cover, veggie tray and roasting trays included, or you can get it in a deep red hue for no extra cost.
I'm looking forward to getting 'hands-on' myself with the Ninja Woodfire but if you've heard enough already, the Ninja Woodfire is available to buy right now on both sides of the pond (there's no word on an Australian launch currently) and it's already selling fast.