It's time for your daily round of Wordle hints, expertly crafted to help you keep your streak going even on the toughest of days. 
You might think that you don't need any clues for Wordle today, but remember: failure in this game is only ever six guesses away.   
Below, you'll find a selection of Wordle hints to guide you in the right direction. You don't have to use them all, but there are five in total should you need them, covering vowels, starting letter, ending letter and more. And if you don't have time to play at all, you can see the answer, too. 
Want more word-based fun? My Quordle today page contains hints and answers for that game, which remains the best of all the main Wordle alternatives.
SPOILER WARNING: Wordle hints and today's answer are below, so don't read on if you don't want to see them.
Wordle hints (game #714) – clue #1 – Vowels
How many vowels does today's Wordle have?
• Wordle today has one vowel*.
* Note that by vowel we mean the five standard vowels (A, E, I, O, U), not Y (which is sometimes counted as a vowel too). 
Wordle hints (game #714) – clue #2 – first letter
What letter does today's Wordle begin with?
• The first letter in today's Wordle answer is N.
N is a surprisingly uncommon starting letter. Only 37 games begin with it and it ranks just 18th in this regard.
Wordle hints (game #714) – clue #3 – repeated letters
Does today's Wordle have any repeated letters?
• There are one repeated letter in today's Wordle.
Repeated letters are quite common in the game, with 748 of the 2,309 Wordle answers containing one. However, it's still more likely that a Wordle doesn't have one.
Wordle hints (game #714) – clue #4 – ending letter
What letter does today's Wordle end with?
• The last letter in today's Wordle is Y.
Y is the second most common ending letter in the game, behind only E. In total, 364 Wordle answers end with a Y.
Wordle hints (game #714) – clue #5 – last chance
Still looking for more Wordle hints today? Here's an extra one for game #714.
Today's Wordle answer is a caregiver.
If you just want to know today's Wordle answer now, simply scroll down – but I'd always recommend trying to solve it on your own first. We've got lots of Wordle tips and tricks to help you, including a guide to the best Wordle start words.
If you don't want to know today's answer then DO NOT SCROLL ANY FURTHER BECAUSE IT IS PRINTED BELOW. So don't say you weren't warned!
---
Today's Wordle answer (game #714)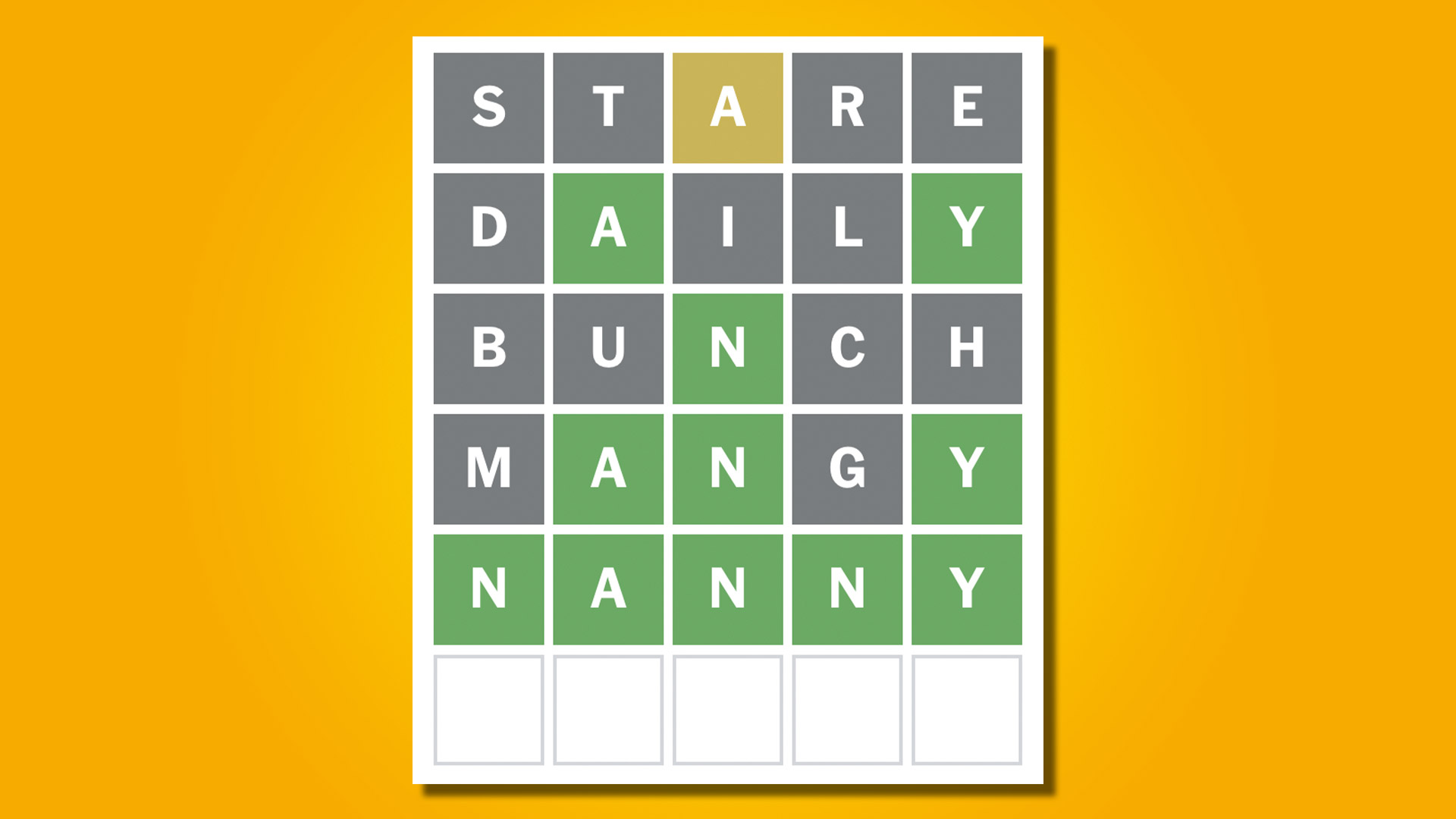 Today's Wordle answer (game #714) is… NANNY.
Seriously, Wordle. Seriously.
Two days ago, we had JAZZY – probably the hardest Wordle answer so far in 2023, with an average score of 5.5 according to WordleBot. And today, after a brief interlude for yesterday's HUMID (see below), we have… NANNY, another -A–Y word, another average score of above 5.0 (5.2, to be exact) and another one with a repeated letter in it.
Sure, this one doesn't have the added complication of any uncommon letters; there are no Js or Zs in it. But instead, it has three Ns. Triple letters are not just uncommon in Wordle, they're really, really uncommon. In fact, there are only 20 examples across Wordle's 2,309 original answers. That's fewer than 1% of all games – so you'd only expect one every 115 Wordles or so. 
When did we last have one? I'm pretty sure it was for FLUFF, game #382 in July 2022. And to the best of my knowledge that's the only previous example out of 715 games (the first game was #0, so we're at 715 not 714). So, in one sense it was long overdue. 
Even without the triple N, NANNY is a hard Wordle to solve on account of that -A–Y format, which is a rather common one in the game. That's evident in the results for most of the best Wordle starting words – for instance, my choice, STARE, left 188 possible solutions. SLATE, WordleBot's favorite, left 199. ADIEU, the most popular selection, was at 352.
However, some did fare better today. CRANE (23) and SLANT (19) both did a good job of cutting down the options, with the combination of an N and an A in each of them giving players a great start.
Lacking that myself, I had to work a little harder to narrow things down. DAILY gave me the position of the A and the Y at the end, leading to a strong sense of deja-vu and fear over what was coming. I still had 21 possible solutions left, WordleBot said after the game, and many of those words used different consonants from each other: HAPPY, NAGGY, GAWKY, FANCY, CABBY, VAMPY and so on. Still, at least I didn't need to include JAZZY in my list any more.
BUNCH was my attempt to rule out as many consonants as possible in one go. It couldn't be right, obviously, but would hopefully safeguard my Wordle streak for another day. And it did pretty well: Only the N changed color, but (as I would soon find out) that was because N was the only remaining letter in the answer.
At this point, I came up with four possible solutions: NANNY, FANNY, MANGY and MANKY. WordleBot didn't have the latter on its list, instead going with JANKY. I figured that playing MANGY would guarantee a 6/6 at worst, as the M would point the way to MANKY even if it was wrong. And if the M also stayed gray, it would be NANNY or FANNY with two guesses left.
The second of those scenarios played out, and NANNY was always my favored option for guess five. I finally got a 50/50 right and walked away with a 5/6. I'll take that, today.
 How did you do today? Send me an email and let me know.
---
Yesterday's Wordle hints (game #713)
In a different time zone where it's still Friday? Don't worry – I can give you some clues for Wordle #713, too.
Wordle yesterday had two vowels.
The first letter in yesterday's Wordle answer was H.
There were no repeated letters in yesterday's Wordle.
The last letter in yesterday's Wordle was D.
Yesterday's Wordle answer is hot and sticky.
Yesterday's Wordle answer (game #713)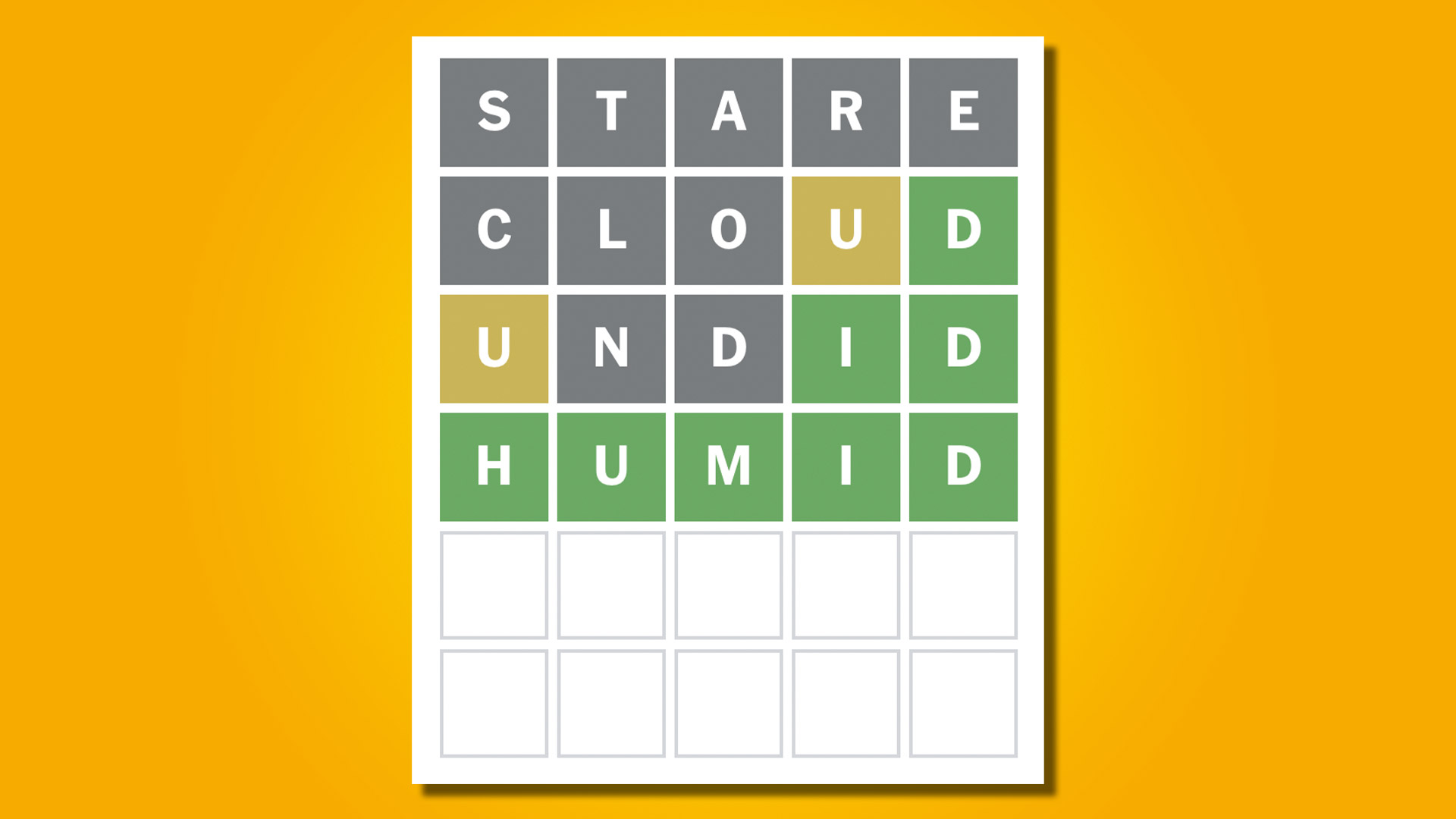 Yesterday's Wordle answer (game #713) was… HUMID.
Yesterday gave us arguably the most difficult Wordle so far this year, but today's puzzle is a lot more straightforward. WordleBot says it has an average score of 3.8 and it doesn't feature any of the complications that typically lead to lost streaks.
For instance: there are no really uncommon letters; there are no repeated letters; and it's not a word that has lots of other similarly spelled cousins. Solving it is a simply a matter of uncovering what those five letters are and then arranging them in the right order, ie the absolute essence of Wordle!
That doesn't mean it's very easy either, though. In fact, I scored a 4/6 on it, the same as I did on yesterday's theoretically much tougher game. Much of that was due to the fact that my choice of the best Wordle starting words – STARE – drew a blank today. That left me with 318 possible solutions for the second guess, which is about 315 too many for a realistic shot at a two-fer.
Nor did most other openers fare any better. SLATE left 308 answers, CRANE 357 and SLANT 530, while TRACE, CRATE and CARTE were all at 344. The pick of the common starters? Well, that was ADIEU, which left just eight possible answers on account of turning up yellow D, I and U. 
My challenge was rather different from that facing the ADIEU crowd, in that I had no yellows or greens at all. Fortunately, my go-to second word in these circumstances, CLOUD, did the trick once again. Though it only gave me a green D and yellow U, that was enough to whittle down my solutions list from 318 to just two. Efficient!
Unfortunately, I didn't know what those two words were. I got fixated on the idea of the answer starting with a U and followed by an N: UNDID was the only viable option I could find, but I simply couldn't place the U anywhere else and make a word. With no other ideas I played that, but I wasn't exactly surprised when it was wrong.
However, with the I now confirmed in place it didn't take me long to work out that the answer had to be HUMID, and I played that next go for a solid 4/6. 
---
Wordle answers: The past 50
I've been playing Wordle every day for more than a year now and have tracked all of the previous answers so I can help you improve your game. Here are the last 50 solutions starting with yesterday's answer, or check out my past Wordle answers page for the full list.
Wordle #713, Friday 2 June: HUMID
Wordle #712, Thursday 1 June: JAZZY
Wordle #711, Wednesday 31 May: AGILE
Wordle #710, Tuesday 30 May: KNEEL
Wordle #709, Monday 29 May: MOUSE
Wordle #708, Sunday 28 May: SKIMP
Wordle #707, Saturday 27 May: RAMEN
Wordle #706, Friday 26 May: SWINE
Wordle #705, Thursday 25 May: BAGEL
Wordle #704, Wednesday 24 May: UTTER
Wordle #703, Tuesday 23 May: CLERK
Wordle #702, Monday 22 May: IGLOO
Wordle #701, Sunday 21 May: BRASH
Wordle #700, Saturday 20 May: FLASK
Wordle #699, Friday 19 May: GRIEF
Wordle #698, Thursday 18 May: SHORN
Wordle #697, Wednesday 17 May: PLANK
Wordle #696, Tuesday 16 May: LATTE
Wordle #695, Monday 15 May: CANOE
Wordle #694, Sunday 14 May: SCARF
Wordle #693, Saturday 13 May: ACRID
Wordle #692, Friday 12 May: SNACK
Wordle #691, Thursday 11 May: BROOM
Wordle #690, Wednesday 10 May: ETHIC
Wordle #689, Tuesday 9 May: COCOA
Wordle #688, Monday 8 May: AGLOW
Wordle #687, Sunday 7 May: GHOUL
Wordle #686, Saturday 6 May: ANGER
Wordle #685, Friday 5 May: BELOW
Wordle #684, Thursday 4 May: GUPPY
Wordle #683, Wednesday 3 May: HORDE
Wordle #682, Tuesday 2 May: SULKY
Wordle #681, Monday 1 May: RANGE
Wordle #680, Sunday 30 April: PLAZA
Wordle #679, Saturday 29 April: CEDAR
Wordle #678, Friday 28 April: CIRCA
Wordle #677, Thursday 27 April: LOGIC
Wordle #676, Wednesday 26 April: METRO
Wordle #675, Tuesday 25 April: JOKER
Wordle #674, Monday 24 April: DITTO
Wordle #673, Sunday 23 April: UNZIP
Wordle #672, Saturday 22 April: BROKE
Wordle #671, Friday 21 April: KAYAK
Wordle #670, Thursday 20 April: PLATE
Wordle #669, Wednesday 19 April: THUMP
Wordle #668, Tuesday 18 April: HOUND
Wordle #667, Monday 17 April: WHIFF
Wordle #666, Sunday 16 April: DWELT
Wordle #665, Saturday 15 April: AGONY
What is Wordle?
If you're on this page then you almost certainly know what Wordle is already, and indeed have probably been playing it for a while. And even if you've not been playing it, you must surely have heard of it by now, because it's the viral word game phenomenon that took the world by storm last year and is still going strong in 2023.
We've got a full guide to the game in our What is Wordle page, but if you just want a refresher then here are the basics.
What is Wordle?
Wordle challenges you to guess a new five-letter word each day. You get six guesses, with each one revealing a little more information. If one of the letters in your guess is in the answer and in the right place, it turns green. If it's in the answer but in the wrong place, it turns yellow. And if it's not in the answer at all it turns gray. Simple, eh? 
It's played online via the Wordle website or the New York Times' Crossword app (iOS / Android), and is entirely free. 
Crucially, the answer is the same for everyone each day, meaning that you're competing against the rest of the world, rather than just against yourself or the game. The puzzle then resets each day at midnight in your local time, giving you a new challenge, and the chance to extend your streak.
What are the Wordle rules?
The rules of Wordle are pretty straightforward, but with a couple of curveballs thrown in for good measure.
1. Letters that are in the answer and in the right place turn green.
2. Letters that are in the answer but in the wrong place turn yellow. 
3. Letters that are not in the answer turn gray.
4. Answers are never plural.
5. Letters can appear more than once. So if your guess includes two of one letter, they may both turn yellow, both turn green, or one could be yellow and the other green.
6. Each guess must be a valid word in Wordle's dictionary. You can't guess ABCDE, for instance.
7. You do not have to include correct letters in subsequent guesses unless you play on Hard mode.
8. You have six guesses to solve the Wordle.
9. You must complete the daily Wordle before midnight in your timezone.
10. All answers are drawn from Wordle's list of 2,309 solutions. However…
11. Wordle will accept a wider pool of words as guesses – some 10,000 of them. For instance, you can guess a plural such as WORDS. It definitely won't be right (see point 4 above), but Wordle will accept it as a guess.